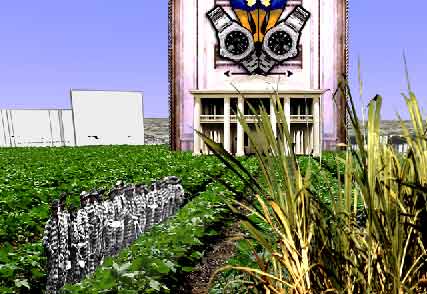 Inmates working on the green roof with the New Plantation Cafe in the background .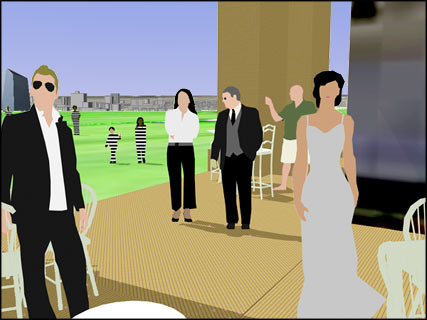 A view of the inmates working the fields of the ArtJail Plantation from the veranda of the New Plantation Cafe
The green roof and the New Plantation Cafe: Profitable agriculture and fine dining at the ArtJail.
The green roof
Green roofs make sense and the My First Prison® rooftop agriculture program makes dollars and cents! The incredibly low per-hour cost of our unskilled prison labor force makes profitability easy, and the kids get lots and lots of fresh air.
The New Plantation Cafe
Fine dining in an authentic Antebellum plantation house atmosphere, with temperature-controlled verandas overlooking the rooftop fields of the ArtJail complex.
Diners will watch the chain-gangs of Youth Study Center inmates learning valuable job skills working the fields of the ArtJail plantation. The food served at the Plantation Cafe will, as much as is possible, be sourced from the plantation.